VISION
Being the first and the oldest department to be recognized, our vision is to develop into a center of excellence of International repute in teaching and research in life sciences.
It has significantly contributed to the academic and economic development of not only the region but also of the Country. It has a vast sprawling campus set in picturesque and idyllic surroundings. Buildings of great architectural elegance and variety enhance its beauty.

MISSION
To impart quality of life science education on par with international standards to both Men & women students.
To young Men & women at Undergraduate and Postgraduate and research levels to develop as outstanding scholars/ teachers/ career Men & women/ entrepreneurs and responsible leaders.
To apply their knowledge and skills in life Sciences for betterment of society.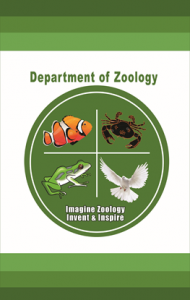 The department of zoology was one of the oldest centers of higher education in Southern India. In the beginning it was started as Pre University Course (P.U.C) in 1956 and it was upgraded to a full fledged major department in 1984 with six faculty members of which four belong to the major zoology and two faculty members of Botany with three lab assistants. The student's strength of the department was twenty five on those days and now the strength has increased to fourty. When the department of zoology started Prof. K. Kondalraj headed the department as Assistant Professor and Prof S. Srinivasan as Assistant Professor of Botany. Dr. K. Nathar entered the shoes of Prof. K. Kondalraj as Head of the department of zoology in 1996 followed by Prof. G . Mohamed Ghouse in 2016 and Dr. M. Mohamed Meeran from 2017 onwards.
Since then the department has made a remarkable strides always ensuring that the curriculum incorporated the most recent trends in various areas in flora & fauna. The department was one among the pioneer in introducing the use of simulators as an alternative to dissection and inculcated a value for all living things amongst students.
In addition the department has two well equipped laboratories (UG& PG) a museum with rare specimens belonging to different species. Areas of specialization include Animal Behavior, Aquaculture, Endocrinology, Entomology and Fisheries Science. Innovative subjects such as Bio-technology, Molecular Biology, Immunology and Biochemistry are offered both at Undergraduate and Postgraduate levels. Technically advanced and sophisticated instruments are available in the laboratory. 
Well maintained library with voluminous books, National and International journals, periodicals, newsletters, Science magazines, M.Phil. dissertation, Ph.D Thesis computer with latest version, internet facilities, science software, movies, and documentaries relating to conservation of fauna & environmental Sciences are also available.
The department organizes UGC and TNSCST Sponsored, National, International level & State level Seminars, Symposium, Conferences, Workshops, for students and faculty members Guest lectures are also organized with visiting scholars as resource persons both from India and Abroad in order to keep abreast of current trends in the life sciences. Seminars at various levels provide a forum for scientific exchange, and students are encouraged to Present papers in seminars presentations and discuss case studies in the class rooms in order to keep abreast of current trends in the life sciences.
 Free training for Rural Men and Women volunteers on Mushroom culture and Honey Bee rearing were conducted by our department. The department is upgrading to research oriented department Insha Allah in the years to come.  Field trips, laboratory and industrial visits are an essential part of the zoology curriculum and ensure that learning is not confined to the class room. The department also organizes nature walks and turtle walks to Biodiversity hotspots (Suruli, Thekkady) in and around Tamilnadu to sensitize the students and to know the value of existing biodiversity and the need for wild life conservation. As a part of the curriculum the students along with the faculties perform educational trip once in a while. The Department conducts on the spot study (OSS)to visit Fresh water fish culture at Samayanallur and Ornamental fish culture , Honey Bee culture at Kadachanendahal to both Major, Allied and Non Major Elective students.
To Honor Dr. M. Mohamed Meeran, Madurai Kamaraj University has approved him as   research guide and he is guiding the research scholars in various platforms like Aquaculture, Benthic diversity & Vermiculture.
At present the faculties of zoology department are also make themselves participate in various extracurricular activities, of which Dr. M. Mohamed Meeran, is the H.O.D. of zoology is former Programme officer of NSS , Coordinator of Community College and  the present Associate Editor in the International Journal of  Innovative studies in Aquatic biology and Fisheries- Andhra Pradesh & Associate Editor in the International Journal of Fisheries and Aquatic Studies New Delhi, Dr.K.Arifa Banu is the Programme officer of NSS women unit of our college, Dr. M.Ashiq Ur Rahman, Assistant Professor of Zoology is the department alumni Coordinator, Dr. M. Mohiadeen Batcha is the member of Parent teacher association also the member of Community college. Ms.P.Kalitha Parveen is the member of Women's forum of our college, Ms.Athira Sukumaran is the Staff in charge of Yoga & Meditation.
The Department arranges one day "Quiz Programme, around the college campus" every year for all students within the department. The students of our department actively engaged in model preparation in various aspects in the field of Cytology, Biodiversity, Ecology etc., in order to bring involvement in the discipline. A Special permission has been granted to the students to preserve some of the rare specimens collected within the campus.
We are planning to conduct annual intercollegiate "National Symposium on Biodiversity Perspectives" in this academic year which will provide a platform for fun filled learning for the students.
At this Juncture it is worthy to mention that the various opportunities for budding zoology graduates are vast in the field of Entomology, Aquaculture, Forensic science, Forestry, Biotechnology and Finger prints etc. The outgoing Students of zoology are well placed at various walks of their life.

WHY STUDY ZOOLOGY?
First and foremost, we are living along with animals.
Basic science in Biology leading to the study of Biotechnology, Nanotechnology, Immunology etc.,
Students who study zoology learn a diversity of topics, ranging from the structure and function of the cells that make up animals, through anatomy and physiology, reproduction and development, evolution and behavior.
This knowledge is important for a range of activities, including biomedical research, Biodiversity, phytoremediation, the management of natural resources, environmental planning and for understanding the natural world.

Aided Staff of the Department:
| | | |
| --- | --- | --- |
| Sl. | Name | Designation |
| 1. | Dr. M. MOHAMED MEERAN, M.Sc., M.Phil., Ph.D., | Assistant Professor & Head |
| 2. | Dr. K. ARIFA BANU, M.Sc., M.Phil., Ph.D., | Assistant Professor |
| 3. | Dr. M. ASHIQ UR RAHMAN, M.Sc., Ph.D., | Assistant Professor |
| 4. | Dr. M. MOHIADEEN BATCHA, M.Sc., Ph.D., | Assistant Professor |

Unaided Staff of the Department:
| | | |
| --- | --- | --- |
| Sl. | Name | Designation |
| 1. | Ms. ATHIRA SUKUMARAN, M.Sc., | Assistant Professor |
| 2. | Ms. A. SYED ALI FATHIMA, M.Sc., B.Ed., M.Phil., | Assistant Professor |
| 3. | Dr. P. RAJA, M.Sc., B.Ed., M.Phil., Ph.D., | Assistant Professor |