Health and Fitness Club of Hajee Karutha Rowther Howdia College functions to highlight the importance of mental and physical well-being of teaching and learning community. The club organises various activities throughout the academic year in accordance to decrease the entropy and confusion in mind. It strives to maintain a balanced state of mind and body among students. The major aim of the club is to inculcate a positive approach for a peaceful and happy way of life among students. The club monitors the students' health by conducting health camps with medical experts. The club also invites the public to take part in the events and rallies for community welfare.

OBJECTIVES
To maintain the health and fitness of the students as well as for the public by encouraging with various activities.

To monitor the health and fitness by arranging various medical camps and programmes.

To create awareness on the environmental pollutant and advice to eliminate the elements of pollution.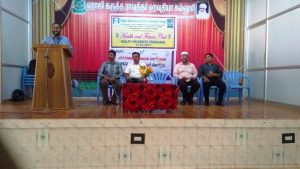 FUNCTIONS OF THE CLUB
Classes are conducted for the students to create awareness on the maintenance of health and fitness.

Emphasize the importance of natural food preference to junk food habits.

Conducted Traditional Food Festival.

Dengue awareness events are conducted.

Create awareness on environment sanitization to curb infective diseases.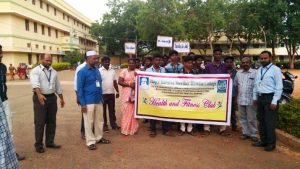 Health and Fitness Club activities are conducted under Part V programme also. The classes are conducted after the college working hours. A separate syllabus is framed for Part V activity of this club and exams are conducted for the same to include in total Grade system.

COMPOSITION OF HEALTH AND FITNESS CLUB
Coordinator:
        Dr. V. PARAMASIVAN, Assistant Professor of Economics
Member:
        Ms. L. SARAVANAPRIYA, Assistant Professor of Business Administration