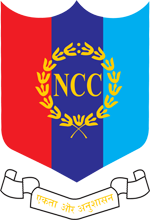 The College has one company of NCC Senior Division Army wing (Infantry) and has an authorized strength of one officer and 60 Cadets. The NCC in this college forms part of 14th Bn. NCC Dindigul.
Similarly the College also has one company of NCC Navy wing with one Officer and 100 cadets. This is part of 2TN NCC Naval UNIT, Madurai.
Motto of NCC
'Unity and Discipline'

Cardinals of Discipline
Obey with a smile

Be punctual

Work hard without fuss

Make no excuses and tell no liess

The Aim of NCC:
To develop qualities of Character, Courage, Comradeship, Discipline, Leadership, Secular outlook, spirit of adventure and sportsmanship and the ideals of selfless service among the youth to make them useful citizens
To create a human resource of organized, trained and motivated youth, to provide leadership in all walks of life including the Armed forces and always available for the service of the nation.
A student is eligible to join the NCC provided,
If he / she is a citizen of India or subject of Nepal and is of good character.

If he / she is under the age of 26 Years.

If he / she is in the rolls of college and.

If he / she is medically fit.
A student stands ineligible to enroll in the NCC If he / she does not satisfy the above conditions. In addition to this, a student will be considered ineligible for the following reasons also.
If he / she has at the time been convicted by a criminal court.

If he / she has been dismissed from the university corps or India territorial force or National Cadet Corps or the Indian Armed Forces.

If he / she is a member of any communal or political organisation believing in violence of communal disharmony.

Application for enrolment in the NCC must be submitted to the commanding officer of the unit concerned in the prescribed format.
NCC training may be only for 2 years and that too, during the first two years of the Degree course and for those who have already undergone NCC Training in Hr. Sec., course, the training will be compulsory only in the first year of the degree course. Further, NCC Training is not compulsory for those students who have already undergone NCC training for two years in the Hr. Sec., course.
Those students enrolled in NCC shall be discharged on completion of service or on his / her leaving the College. A cadet shall also be discharged for the following reasons.
If he / she ceases to be a student of the College.

If he / she is medically unfit for further service.

If in his / her application for enrolment, he / she has given false information.

For irregularity in attendance, in-subordination, habitual inattention in classes, improper behavior and for participation in movements subversive of the discipline of the college and the NCC unit.
Every enrolled cadet shall undergo service training for a period of at least 6 hours per week during the training months. The service training will be for 80 hours during the academic year. In addition, every cadet shall attend the training camps during the training year (July to July), if called upon ; minimum attendance of 75% of training period in each year of training is a must.
A cadet enrolled shall have no liability to serve in any wing of the Armed forces of the Indian Union.
When undergoing training every cadet shall obey all the orders and carry out all instructions of any person placed in command over him. Disobedience or indiscipline of any kind will be viewed as a punishable offence and will be strictly dealt with as laid down in the NCC Act and Rules.


Programme Officers:
        Lt. Dr. M. ABDUL KATHER, Associate Professor of Tamil                   ARMY
        Mr. S. SHACK ABDULLAH, Assistant Professor of History                 NAVY – Care Taker