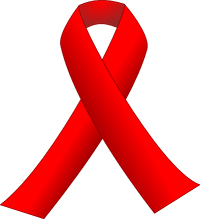 Red Ribbon is the international symbol of HIV and AIDS awareness. Red Ribbon club is a movement started by the Government of India in Educational Institutions, through which students will spread awareness over HIV/AIDS. RRC Youth of Hajee Karutha Rowther Howdia College is encouraged to learn about safe and healthy lifestyle. The RRC promotes access to information on healthy life and voluntary blood donation.
The programme organised by RRC will enrich the knowledge, attitude and behaviour of the youth in the interrelated areas of Voluntary Blood Donation, HIV&AIDS as demanded by their age, environment and lifestyle.
Goal of Red Ribbon Club
To reduce the occurrence of new sexually transmitted infections (incidence), particularly HIV, among youth.
Objectives of Red Ribbon Club
To increase awareness on sexual reproductive health and HIV/AIDS.

Create among the youth, a cadre of peer educators for spreading awareness about HIV/AIDS and its prevention in the community.

To impart skills among youth on self-protection, negotiation and effective group interaction.

To encourage blood donations.

To instil life skills into youths to live better and healthier life.
Events
| | | | |
| --- | --- | --- | --- |
| S. No | Date | Title | Photo Gallery |
|    1 | 16.10.2018 | Blood Donation | view |
|    2 | 28.02.2019 | An Awareness Programme on AIDS Awareness and Mental Health for Youth | view |
|    3 | 18.03.2019 | An Awareness Rally on Blood Donation | view |
|    4 | 26.03.2019 | An Orientation Programme on " Life Skill Development " | view |
|    5 | 06.09.2019 | Documentary Film on Drug Abuse | view |
|    6 | 19.09.2019 | A Poster Making Competition on Blood Donation | view |
|    7 | 12.12.2019 | An Awareness Programme on AIDS | view |
|    8 | 19.03.2021 | An Orientation Programme on Corona Virus Infection | view |
|    9 | 16.11.2021 | A Documentary Film on AIDS Awareness & Drug Abuse | view |
|   10 | 17.11.2021 | Poster Making Contest on Blood Donation | view |
|   11 | 26.11.2021 | An Elocution on Aids Awareness | view |
|   12 | 12.08.2022 | Poetry Writing Competition On Drug Abuse – A Social Evil | view |
Composition of

Red Ribbon

ClubCoordinator:
Ms. J. SALEEMA KATHOON,
Assistant Professor of English
Member:
Ms. M. RIZVANA,
Assistant Professor of English