National Service Scheme popularly known as NSS, the scheme was launched in Mahatma Gandhi Centenary year 1969 and aimed at developing student's personality through community service. The overall objective of National Service is educational. This objective is attained through the service to the community.
National Service Scheme (NSS) is a permanent youth Programme under the Ministry of Youth Affairs and Sports, Government of India and funded by Government of Tamil Nadu and Government of India.

OBJECTIVES:
The overall objective of NSS is 'PERSONOLITY DEVELOPMENT OF THE STUDENTS THROUGH COMMUNITY SERVICE'

The broad objectives of NSS are to:
Understand the community in which they work.

Understand themselves in relation to their community.

Identify the needs and problems of the community and involve them in problem solving process.

Develop among themselves a sense of social and civic responsibility.

Utilize their knowledge in finding practical solution to individual and community problems.

Develop competence required for group-living and sharing of responsibilities.

Gain skills in mobilizing community participation.

Acquire leadership qualities and democratic attitude.

Develop capacity to meet emergencies and natural disaster.

Practice national integration and social harmony.

MOTTO
The Motto of NSS is 'NOT ME BUT YOU'. It underlines that the welfare of an individual is ultimately dependent on the welfare of society on the whole. This express the essence of democratic living and upholds the need of selfless service and appreciation of the other man's point of view and also consideration for fellow human being.

SYMBOL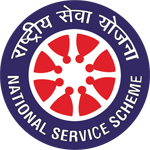 The symbol of the National Service Scheme is 'Rath' Wheel of the Konark Sun Temple of Orissa. These giant wheels of the sun temple portray the cycles of creation, preservation and release and signify the movement in life across time and time and space. The design of the symbol, a simplified form of the Sun Chariot wheel primarily depicts movement. The wheel signifies the progressive cycle of life. It stands for continuity as well as change and implies the continuous striving of NSS for social transformation and enlistment.


BADGE
The NSS symbol is embossed on the NSS badge. The NSS volunteers wear it while undertaking any programme or community service. The konark wheel in the symbol has eight bars, which represent the 24 hours of the day. Hence, the badge reminds the wearer to be in readiness for the service of the nation round the clock i.e. for 24 hours. The Red Colour in the badge indicates that the NSS volunteers are full of blood i.e. lively, active energetic and full of high spirit. The Navy Blue Colour indicates the cosmos of which the NSS is a tiny part, ready to contribute its share for the welfare of the mankind.

VILLAGE ADOPTATION PROGRAM
 National Service Scheme of our college adopted a village called Ellapatti, which comes under the markayankottai panchayath in uthamapalayam taluk. Every weekend our NSS volunteers visiting the village and the following programs are conducted for betterment of village people:
Swatch Bharath (cleaning program).

Census

"Voters Awareness"

"Plastic free village" program

Eye Camp

Programme Officers:
        Dr. S. MOHAMED BASHEER, Assistant Professor of Mathematics               (Unit No. 114)
        Mr. M. BILAL, Assistant Professor of Tamil                                                       (Unit No. 115)
        Dr. S. FAIZ AHAMED, Assistant Professor of Commerce                                (Unit No. 116)
        Dr. P. ANITHA, Assistant Professor of Mathematics                                        (Unit No. 117)
        Ms. A.M. RASHIDA BANU, Assistant Professor of Botany                              (Unit No. 118)
        Ms. S. SAGETHA PARVIN, Assistant Professor of Economics                       (Unit No. 212)
NSS Events 2021-22
S. No
Date
Title
Gallery
1
21/06/2021
International Yoga Day
View
2
28/08/2021 to
29/08/2021    
First Covid-19 Mega Vaccination Camp
View
3
01/09/2021 to
02/09/2021    
Second Covid-19 Mega Vaccination Camp
View
4
04/09/2021    
FIT INDIA – Freedom Run 2.0 (Azadi Amrit Mahotsav)
View
5
01/10/2021 to
31/10/2021
NSS Clean India Campaign (Swachhata Shapath)
View
6
13/10/2021    
POSHAN ABHIYAAN- National Nutrition Mission
View
7
26/10/2021    
Third Covid-19 Mega Vaccination Camp
View
8
27/10/2021    
Draw for Independent India: A Pencil Drawing Competition
View
9
29/10/2021  
An Awareness Programme on Breast Cancer
View
10
30/10/2021    
Helmet Awareness Programme
View
11
24/11/2021
First Blood Donation Camp
View
12
08/12/2021 to
10/12/2021
Aadhaar enrollment and Correction Camp
View
13
14/12/2022
Swatch Bharat Abhiyaan at Government Hospital, Uthamapalayam
View
14
16/12/2021 to
17/12/2021
Election Awareness – SVEEP:  12th National Voter's Day Celebration
View
15
08/03/2022
International Women's Day Celebration
View
16
10/03/2022
Free Eye Check-up Camp at Adopted Village – Karukkodai
View
17
14/03/2022
Second Blood Donation Camp
View
18
23/03/2022
Martyrs' Day: Screening of Documentaries on the life of Shaheed Bhagat Singh
View

Chairperson:
Dr. H. MOHAMED MEERAN, Principal
Members:
Dr. M. MOHAMED MEERAN, Department of Zoology 
Mr. S. MOHAMED ROWTHER, Department of  English
Dr. H. RAKHIBA, Department of English
Dr. M. MOHAMED ISHAQ, Department of Commerce
Dr. J. THASLEEN FATHIMA, Head, Department of Information Technology